Comfier
Our Well-being products will bring you a relaxed & healthy life.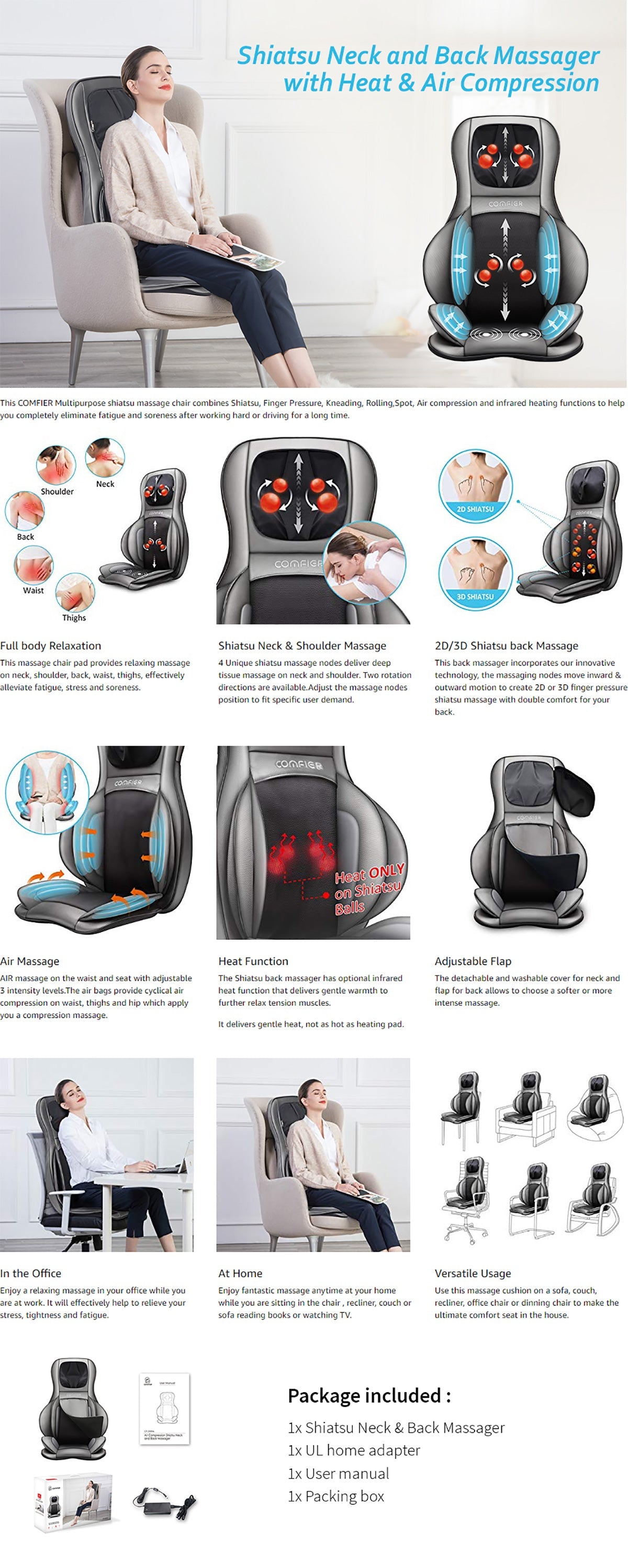 OMNI DESIGN, RELAX FULL BODY -The massage chair utilizes innovative 2D/3D Finger Pressure Shiatsu, Rolling, Air compression, Vibration and Heat functions to provide you an Omni comfortable massage to soothe muscles and ease tension like a spa massage.
CREATIVE 2D/3D SHIATSU MASSAGE - The Shiatsu Neck & Back Massager with Heat, it has 4 rotation nodes to provide deep kneading massages for neck and shoulder. This massager incorporates our latest innovative technology, the massaging nodes move inward & outward motion to create 2D or 3D finger pressure shiatsu massage with double comfort for your back.
ADJUSTABLE ROLLING & SPOT MASSAGE–The chair massager features soft rolling massage along the back spine combats muscle pain across the whole back, and the width between two massage heads can be adjusted to fit the body. SPOT massage function allows you to concentrate the massage on one area for pin-point relaxation. Also, you can choose Full back, Upper back or Lower back to massage the target area as desired.
OPTIONAL HEAT & ADJUSTABLE AIR MASSAGE– The Shiatsu back massager has an optional infrared heat function that delivers gentle warmth to further relax tense muscles. ADJUSTABLE AIR COMPRESSION -Air massage on waist and hips from 2 airbags helps relieve tension indulging yourself in full-coverage and deep tissue massage by the massage chair. Three adjustable intensity levels are available.
ULTIMATE COMFORT–Place this seat massager on a sofa, couch, recliner, office chair or dining chair to enjoy a therapeutic massage in the comfort of your home ! 100% MANUFACTURES GUARANTEE: For any reason if this massage chair pad does not meet your expectations, return it for a full refund within 30 days.
Note: This is a vibration massager only, not a deep-kneading Shiatsu massager. DO NOT buy this product if you are looking for a shiatsu massager with rolling balls. ADJUSTABLE MASSAGE INTENSITY-The massage pad has 3 intensity levels and 5 massage modes that can be adjusted to suit individual needs.

RELIEVE PAIN, IMPROVE SLEEP –Comfier full body massage mat is designed with 10 massage motors to provide vibration massage that combines with heat therapy, can effectively relieve muscle pain, joint pain, cramps and improve sleep quality. It's the BEST gift idea for people with chronic pain.

HEAT THERAPY -The massage mattress pad is built in 2 heating pads for pain relief to your full body. It delivers soothing heat to further relax soreness muscles and promote blood circulation. The overheat protection system and heating pad with auto shut off features ensure safe use.

CUSTOMIZABLE & FLEXIBLE-The massage chair pad allows you to select the specific massage area: shoulder, back, lumbar, legs or combine some areas to best suit your needs. It's flexible & foldable, you can enjoy on-demand massages whether lying on the bed, floor or sitting on sofa, couch, recliner or chair.

ULTRA SOFT PLUSH- This back massage mat is made of Optics ultra-soft plush material that offers a comfortable and great feeling for body touch. A Best Christmas gift for Men, woman, Mom, Dad, and your loved one. The reliable quality-Any reason, if this heated massage mat does not meet up your expectation, just return it for a full refund within 30days.