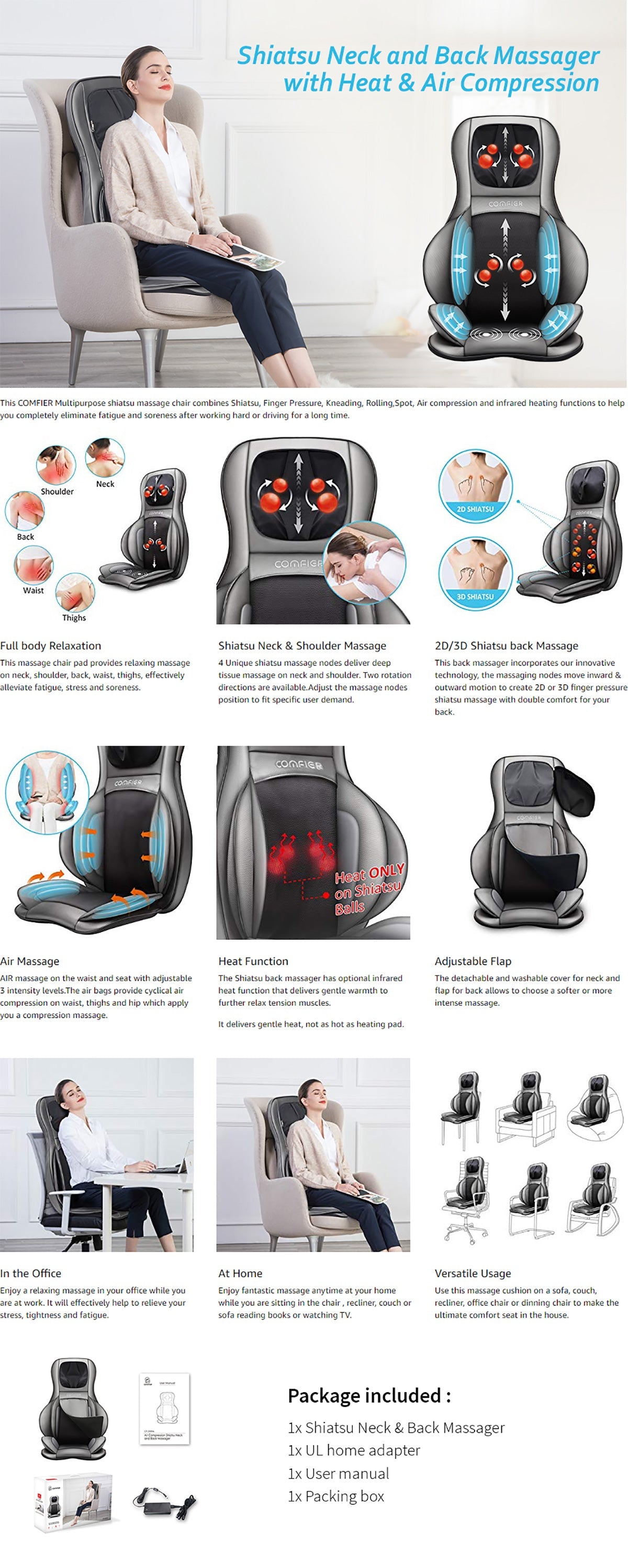 OMNI DESIGN, RELAX FULL BODY -The massage chair utilizes innovative 2D/3D Finger Pressure Shiatsu, Rolling, Air compression, Vibration, and Heat functions to provide you an Omni comfortable massage to soothe muscles and ease tension like a spa massage.
CREATIVE 2D/3D SHIATSU MASSAGE - The Shiatsu Neck & Back Massager with Heat, has 4 rotation nodes to provide deep kneading massages for the neck and shoulder. This massager incorporates our latest innovative technology, the massaging nodes move inward & outward motion to create 2D or 3D finger pressure shiatsu massage with double comfort for your back.
ADJUSTABLE ROLLING & SPOT MASSAGE–The chair massager features soft rolling massage along the back spine combats muscle pain across the whole back, and the width between two massage heads can be adjusted to fit the body. SPOT message function allows you to concentrate the message on one area for pin-point relaxation. Also, you can choose the Full back, Upper back, or Lower back to massage the target area as desired.
OPTIONAL HEAT & ADJUSTABLE AIR MASSAGE– The Shiatsu back massager has an optional infrared heat function that delivers gentle warmth to further relax tense muscles. ADJUSTABLE AIR COMPRESSION -Air massage on waist and hips from 2 airbags helps relieve tension indulging yourself in full-coverage and deep tissue massage by the massage chair. Three adjustable intensity levels are available.
ULTIMATE COMFORT–Place this seat massager on a sofa, couch, recliner, office chair, or dining chair to enjoy a therapeutic massage in the comfort of your home! 100% MANUFACTURES GUARANTEE: For any reason, if this massage chair pad does not meet your expectations, return it for a full refund within 30 days.
I received the back massager for Christmas I also received in the box a coupon for a massage pillow for $0.19 Said go to warranty to register and order the massage pillow but can't find how to order it anywhere

Please send a message to support@comfiermassage.com

Do you have same with Uk plug ? Also do you have ship to saudi arabia ?

For some model, we do ship to the UK or Saudi Arabia

weight limit?

There is no weight limit, but do not suggest hard force against the massage nodes

Hi, I am looking to buy a shiatsu massager for my wife who is just over 5ft tall. Will the adjustment of the neck massage position allow her to use it comfortably? Thank you. Richard.

should be fine for your wife to use

Is this massager dual voltage and the adapter can be changed to 220v? Thank you,

100V to 240V

PURCHASED A COMFIER SHIATSU NECK AND BACK MASAGER RECENTLY; I HAVE TRIED TO CONTACT SOMEONE REGARDING THE WARRENTY REGISTRATION AT 877-555-9300. THIS NUMBER IS NO LONGER AVAILABLE. I AM NOT ON FACEBOOK. IS THERE ANY WAY TO CONTACT SOMEONE BY PHONE SO I CAN REGISTER MY PRODUCT.

support@comfiermassager.com  Please send an email, one of our customer service will be there with you

Where do I find the order ID# to register my warranty

You should receive a confirmation letter if you enter your email when you check out. 
System would also send you a cell phone message.
You could also send an email to support@comfiermassager.com to tell customer service to search by name on the order